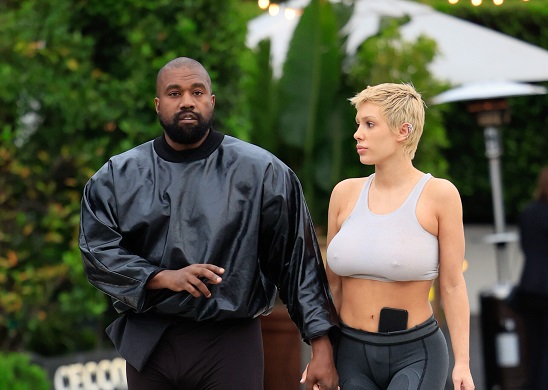 American rapper, Kanye West, and his partner, Bianca Censori, have taken the world by storm in new photos showcasing the couple engaging in sexual acts.
Recently, Bianca Censori and Kanye West have been spotted all around Italy. Overall, it seems that the musician has been locked in as he creates his latest album. Fans are really enthusiastic about this possibility, especially because he is currently working with musicians like CyHi The prince, Ty Dolla $ign, and others.
However, Ye has also enjoyed this as a pleasant prolonged vacation while spending time with his wife, Bianca Censori. They have been out and about quite a bit, and Censori has run into problems with the locals because of her clothing choices. While on their Italian holiday, Kanye and Bianca had previously ventured out on a riverboat.
The fact that Ye was showing his butt while his pants were down has made this situation fascinating. The image started spreading like wildfire on social media.
However, the obscenities did not stop there. More recent images that circulated on social media gave the impression that Censori and Ye were having intercourse. Ye's butt was still on display, adding support for the theory. Ye was seen in his own headspace, while Censori appeared to be a little embarrassed by this situation. They were definitely having a great time during this riverboat ride, regardless of the shutterbugs.
See photos below,
— PB Media (@PBMedias) August 28, 2023